The Big Issue in Small Town America
SPOILER ALERT: IT'S RACISM
A story about the severe treatment of blackness in a small town and the people attempting to rectify it.
By RYAN ROSS
DEC. 14, 2020
---
There's an uneasy feeling in the pit of my stomach. It's Saturday, Oct. 17, an unusually sunny day for the Pacific Northwest during this time of year. It's 4:30 p.m. and there are 15 people spread across the four corners of Main Street and Highway 99W, the busiest intersection in Monmouth, Oregon.

They're participating in what has become the city's daily Black Lives Matter protest. They're wearing masks, holding homemade signs and waving at drivers. Some cars slow down honking in support, adding the occasional smile and wave back to the demonstrators. Other vehicles slow down for different reasons. Opposers of this demonstration lean out of their windows while raising fists and middle fingers, to shout obscenities and sociopolitical phrases like, "Trump 2020!," "All lives matter!," and "Fuck you!"

As I stood there documenting the scene, I felt hyper-aware of my blackness. I was the only Black person there and sadly, this was something other demonstrations expressed as being commonplace. No other moment in my life has revealed to me more clearly than this that my skin makes people both enraged and uncomfortable. Only 5% of the people who live in this city, which is only an hour south of Portland, are Black. And this city is plagued by an issue that small towns across the country face: the erasure of the black experience and the unfavorable treatment of black people.

During the hour occupied between the corners of the busiest intersection in Monmouth, I realized how, even as a guest in this city, my experience reflects how black people feel here every single day. Out of place and brutally uncomfortable. But, Monmouth doesn't have a monopoly on making Black Americans uncomfortable.

In the past four years, the mistreatment of Black Americans in all aspects, socially, judicially and medically, have been made more and more public. However, in recent years, the struggles and injustices of the Black community have been positively amplified by the Black Lives Matter movement. Through protests, demonstrations, lie-ins and rallies, supporters of the message and goals behind Black Lives Matter have been able to make effective changes for the Black community. Yet, despite seeming to be one of the most progressive countries in regards to civil and human rights, the United States has vilified, criminalized and agonized Black Americans since before it was founded. BLM supports the rationale that by finally hearing the voices of those oppressed and brutalized by a criminal justice system, rooted in hatred and discrimination, positive changes can occur.

For the 2020 general election, the country was given two choices for the presidential candidate, Joe Biden and the more polarizing option, Donald Trump. In major cities across the country, the support of a candidate expanded beyond political concerns to issues that span the scope of human rights. After the deaths of George Floyd, Breonna Taylor and so many unarmed Black people, for some, certainly not all, it all boiled down to which candidate could acknowledge these issues and make a plan to remedy them.

For more than five months, the city of Portland has continued to make headlines for its actively continuing protests. Despite some of these protests turning violent or destructive, more than 950 individual arrests and a heavy government presence, more than 1,000 residents in the city of Portland have been steadfast in making their voices heard for the issues they deem significant.

In a city with roughly 500 Black Americans, the choice to stand at these four corners in Monmouth and hold signs is arguably more intimidating than standing on any corner in Portland. Here, their faces are remembered, their message is clear and their impact is causing waves across the city.

︎︎︎

Much like the rest of the country, anti-Blackness is at the root of Oregon's history. Fifteen years before Oregon became a state in 1859, the territory's governing body began passing a series of Black exclusion laws that attempted to prevent Black people from settling in Oregon. Those laws weren't officially repealed until 1926.


And even though the state was anti-slavery, these laws utilized the violent acts associated with slavery by subjecting black people to whippings every six months, "no more than 39 times" for staying in Oregon territory longer than three years. In 1921, roughly 77 years after the passing of the first exclusion law, the presence of the Ku Klux Klan began to surge, reaching membership totals north of 40,000. In the neighboring states of California and Washington, the combined Klan totals for both states never exceeded 40,000. These numbers are staggering when considering that, at the time, despite the population of California being five times that of Oregon's, Oregon's membership totals were almost doubled.


The Klan was widely successful in Oregon and even succeeded in electing many of their members into local and state governments which allowed them to pass legislation that furthered their agenda. The Oregon Klan was the largest KKK organization in the West and despite fading in the 1930s, small chapters are rumored to still exist across the state.


Located in Polk County, Monmouth has a population of approximately 10,500 people. Roughly 80% of the population is white. Up until 2002, Monmouth was a dry town, the last one left on the West Coast.


According to the U.S. Census,

61% of the country lives in small cities and towns with populations under 50,000

. The Housing Assistance Council

tabulated the 2010 census publication

to showcase that the racial makeup of rural and small towns is less diverse than the rest of the country with 78% White and only 8.2% African American. Although the Black population in Monmouth is roughly 5%, the city's demographics are comparable to other small towns across the country.

︎︎︎
In June 2020, a week after the protests began in Portland, a few residents in Monmouth came together to put on a protest of their own. Starting small with only four participants on Day One, the group grew to more than 150 on Day Three and maintained there for the remainder of the week.

Organized by Carol McKiel, a Monmouth resident and Master of Science program adviser at Oregon State University, the group started a Facebook page called Monmouth For Justice (M4J). The group decided to utilize the platform, not only to organize the protests but to provide educational and informative articles for the community. From that first week in June till the first week of November, M4J gathered every day from 4:30 p.m. till 5:30 p.m, only recently changing the protest to Sundays from 3-4 p.m. The members hold signs that state, "Black Lives Matter. Not only, but also", "It's never too late to give up your prejudices" and "White denial maintains racism. Please learn."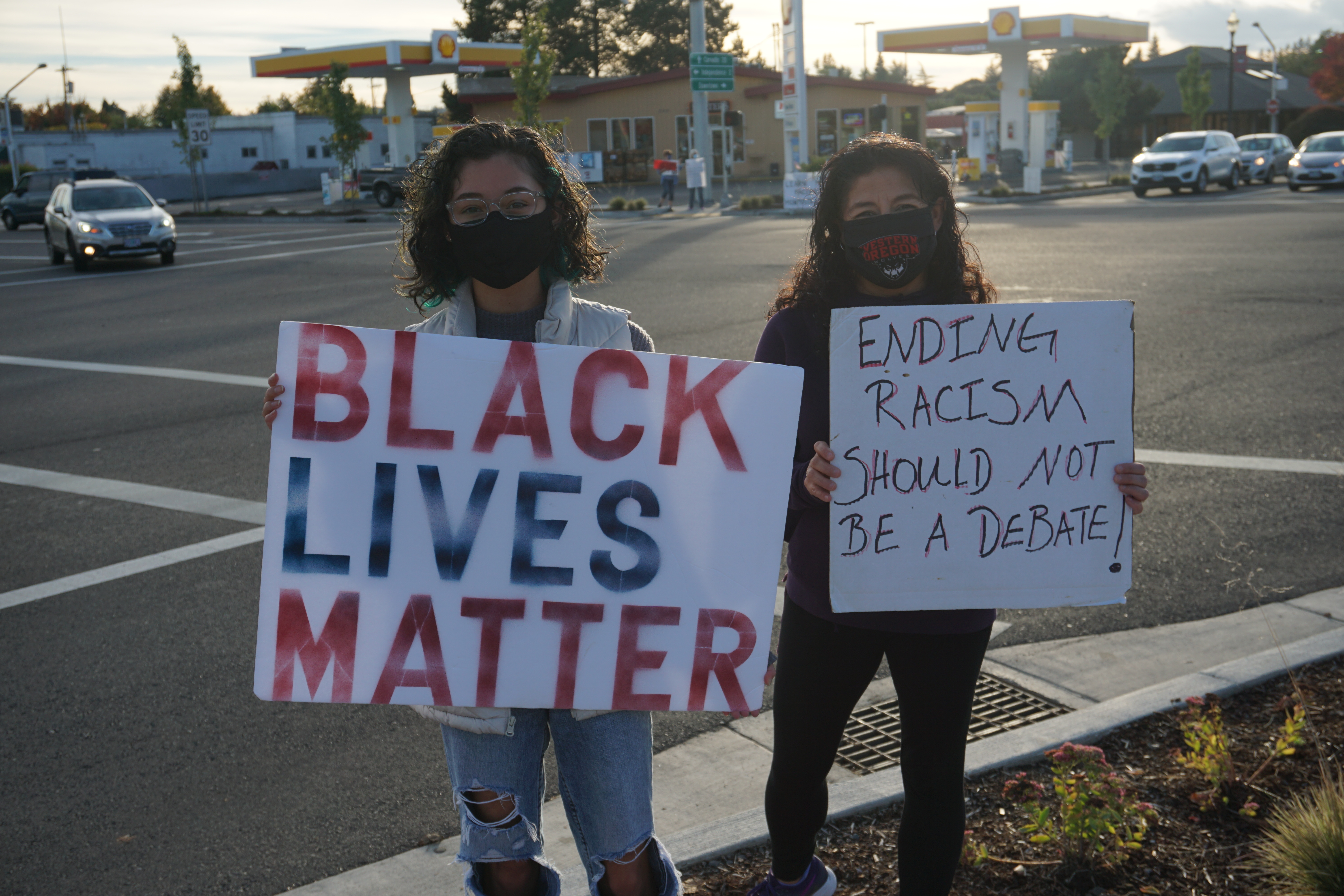 Members of M4J see themselves as educators for the city, providing the residents with exposure to issues that many choose to ignore. "We're not going to stop the oppression," said the 65-year-old McKiel. "However, we can at least make noise about it and we can at least bring attention to it."

McKiel is one of two members of Monmouth For Justice that ran for city council this fall, hoping to bring the group's firm stance against systemic racism, police brutality and the dangers of weaponizing white privilege into office with them. McKiel represents the individuals in the community that aren't personally affected by the oppression and violence that people of color face in the country. She acknowledges that maintaining silence is a symptom of her white privilege that she can no longer succumb to.

"I can own that I didn't always speak up when I needed to," said McKiel. "There were plenty of times when I fell back on my race and didn't take the initiative. But I can't allow myself to sleep on these issues anymore. This is something that I have to do. This isn't something that makes me a noble person because of my involvement, it's something that I acknowledge is my responsibility because of my privilege."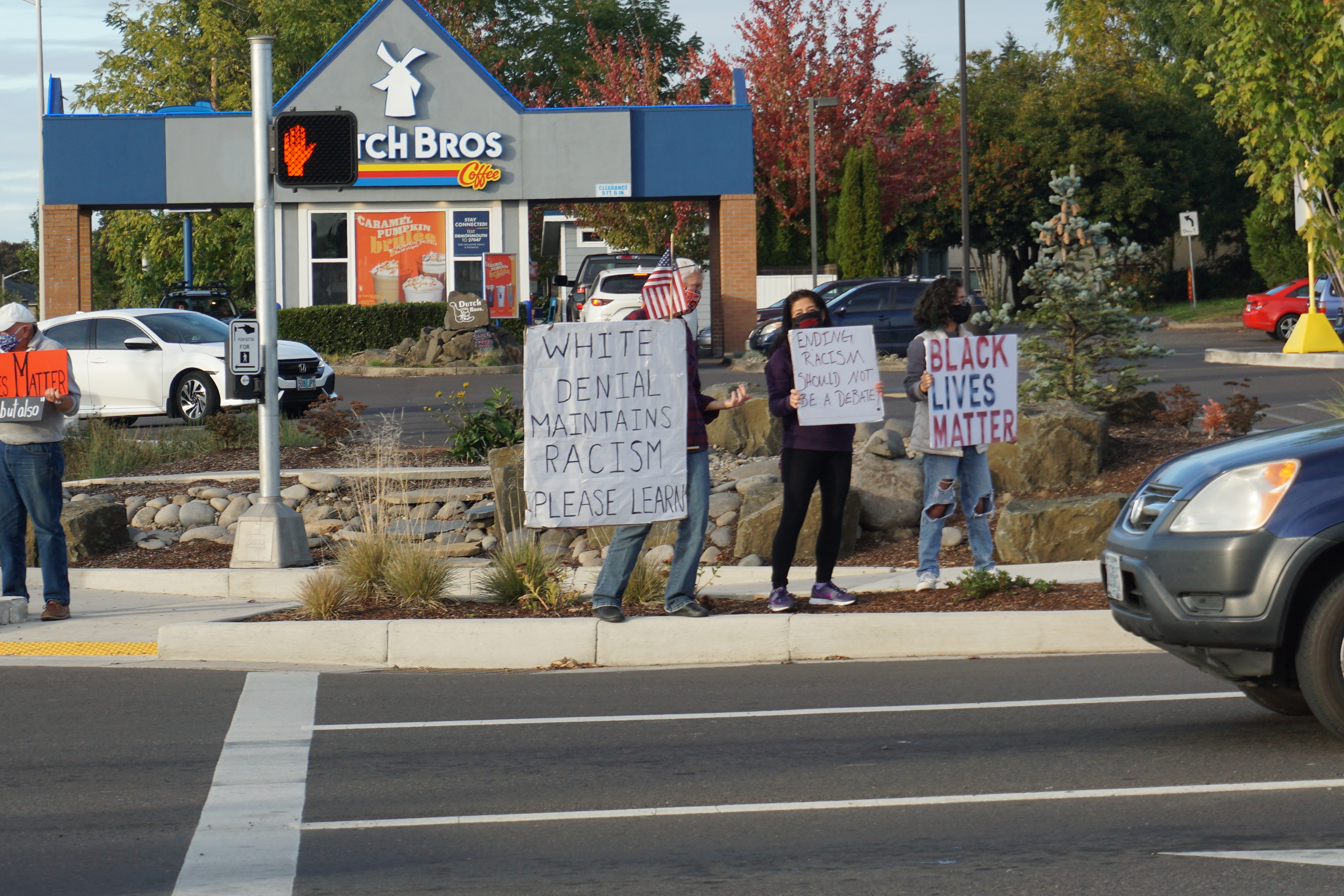 Rebecca Salinas-Oliveros, 49, CWE Faculty and Internship Coordinator at Chemeketa Community College and M4J member, shared that her own experience being apart of the Hispanic community in Monmouth, as well as her experience in higher education, prompted her decision to run for city council. "We live in this town, we have a voice and we need to use it," said Salinas-Oliveros.

Salinas-Oliveros expressed that the community of Monmouth hasn't changed much since her time as an undergraduate at Western Oregon University (WOU), explaining that it's only now that these issues are being discussed on a larger scale. "The people who are against BLM are trying to say that we're tearing people apart," said Salinas-Oliveros. "But no, this has always existed, people just don't like to talk about it. People just want this to go away and to go back to their lives before all of this because their lives were 'OK' and they don't have to worry about these issues."

With similar agendas that included creating a welcoming, safe and inclusive city, McKiel and Salinas-Oliveros largely ran a campaign that backed one another. From featuring each other on their campaign flyers to mentioning the other during their door-to-door canvassing, they were constant in their support and maintained hopes that both would join the city council.
On their journey to fill two of the three open city council seats, McKiel and Salinas-Oliveros, started by attending and speaking at city council meetings. Raising their concerns about the Monmouth police department, the implicit biases that plague it and suggestions about a reorganization of funds, McKiel, Salinas-Oliveros and M4J were quickly met with opposition.


In August, a group of residents from Monmouth and the neighboring towns of Dallas and Independence formed Truth and Freedom United or TFU. The group claims to have formed to provide an outlet and community for the conservative voices within Polk County. In an interview on Dec. 4, with Michael Rose of the

Willamette Wake Up

, a radio show on the community radio station KMUZ, TFU member Brittney Hall said that many members of the group came together out of fear surrounding the protest and the statements made to the city council. Explaining that members were scared that issues like COVID-19, reorganizing police funds and social protests were now, "in their own backyards".


While the group claimed to be "pro-freedom" and not a "Blue Lives Matter" group,

members from the group held signs that read

, "We back the blue" and "We trust our police," outside of a city council meeting Aug. 4, in response to the statements made in the previous month by McKiel and Salinas-Oliveros about the police department.


On Oct. 1, both M4J and TFU held rallies at the same place and at the same time. For the greater part of the rallies,

the groups stayed on opposite corners and streets

. However, when they did intersect, some disputes did occur. "The Truth and Freedom people were just rude and bullies," said Salinas-Oliveros. "They were trying to stifle our voices. Every time they covered up one of our signs, we figured out a way to show it again. Every time they covered me with one of their American flags, I found a way around it." Salinas-Oliveros and McKiel, both present at the rally, expressed that despite some tense conversations, they're both proud that it never extended into physical violence.

"All of the Truth and Freedom United members ended up on one corner," said Salinas-Oliveros. "Why? Because Black Lives Matter supporters were not going to take their shit. They were not going to stay quiet. They were going to educate."
Despite several attempts to create a formal dialogue between the groups, McKiel said that TFU never followed through with intentions to discuss issues and concerns with M4J. Up until recently, Truth and Freedom United maintained a private Facebook group and were only mentioned in a few articles from the local newspaper. A lack of clear leadership has allowed Truth and Freedom United to hide behind one another as they protest and oppose Monmouth for Justice, the changes they want to make and the Black people that finally feel seen because of it.

︎︎︎

Although Monmouth For Justice supports the Black Lives Matter movement, there has been little to no Black involvement from the community. There are upward of 500 Black people in Monmouth, but where are they?

From being called the N-word on the streets to being stared at in local stores, the Black residents in this town don't have the privilege of staying hidden. Here their racial identity prevents them from opening doors that others in the community didn't even know could close. The Black community has endured racism that, they agree, much of Monmouth chooses to ignore.

Having grown up in small towns across the country, Pastor Frank Morris, 61, maintains that this city is unlike anything he's experienced before. He's lived in Monmouth since 1994 and detailed that some of the first encounters he had in the city were incredibly vicious. "I worked the graveyard shift for a while at Circle K," said Morris. "While I was there, within a 15 month period, there were four occasions where life could have gotten very violent. People coming in to buy beer and they didn't like the N-word telling them that they can't buy beer. Or the, 'you don't talk like a Black person so I'm going to come back there and fix you.' attitude."

Morris recounts one specific incident in which customers at his place of work became hostile and aggressive because he refused to sell them alcohol, since they appeared to be under the influence. He also recounts that that incident was the only time he trusted the Monmouth Police Department to help him. "That was the first and only time that I relied on the police to take care of me," said Morris. "I will not typically call the police because of the extra attention that I receive being a Black person."

During his 27 years in the city, Morris has become well-known in the community for his role as a pastor at New Life Ministries. During his service, InnerCup, he challenges his predominantly white attendees to acknowledge the microaggressions and implicit biases that Black people face in the city, admitting that more often than not, his integrity as a pastor is challenged as well. "Here in a small town, people don't have nearly the awareness that I do," said Morris. "If I were to speak at my level, they won't get it. So, I come down and speak at their level and try to push them up so that they understand where I'm coming from."

He explains that members of the community don't acknowledge that the little comments and "jokes" made at the expense of Black people aren't just words. "If someone confronts me, my first reaction is fists up and I don't physically do it but their reaction is always, 'Oh, I was just kidding'," said Morris. "No, you weren't. You don't understand that that's not joking in my language and in my experience. What you just did, what you just said is a violent action."

With such a small Black population, Morris feels that the city lacks the Black representation and leadership that would force other residents to recognize how widespread the injustices really are. Similar to the sentiments expressed by Salinas-Oliveros, Morris thinks that Monmouth residents would much rather the Black community stay quiet and hidden.

"But now you're hearing us and in hearing us don't push us off to the side again," said Morris. "We can improve your lives if you choose to listen to what we are saying. And that's me. I'm going to be the one that's heard. Like it or not, I'm still here. Like it or not, I'm going to keep spewing these things at you."
---
Pastor Frank Morris discusses how he's making an impact in Monmouth, his concerns about the community, and why he feels the word "Trump" is so vile.
---
While many Black residents in the city agree that the scarcity of the Black presence within the community seems to rationalize the poor and unfavorable treatment of Black people, Resident Director and Black Student Union adviser at Western Oregon University, Joe Hahn attributes it to something else. Originally from Sacramento, California, Hahn, 27, has lived in Monmouth for just under eight years.

"It's really important to remember that Oregon, as a whole, was founded being anti-black and was basically a sundown state," said Hahn. "So a state founded in that is always going to be anti-black even with the changes that have happened. There's no way to get that out. It's in the soil. It's in the roots. How do you rip that out without changing things on a larger scale?" Occupying both the university and community spaces, he admits that the campus environment does provide a small sense of solace for Black students and faculty. However, even on campus, encounters with racists and Trump supporters are still common.

"We had a truck that drove through campus during the school year that had confederate flags on it," said Hahn. "Every single time a Black person saw it, they stopped in their tracks and were scared. I was walking my dog once and I was like, 'this could be it'. It's intimidating, it's scary and we live here so we don't deserve to be in that fear."

Hahn also addressed that the Monmouth community had an unfitting response to the local BLM protests organized by M4J. "It's interesting the response to the Black Lives Matter movement," said Hahn. "People thinking that because we are supporting Black lives, now we are instantly against policing...that immediate thought process that if you support Black lives, you don't support police just doesn't go together."

He further described that the counter-protests that utilize the American flag to oppose BLM are intimidating and completely redefine what the American flag symbolizes. "It makes it so that if I see the American flag, I feel like I can't trust this person," said Hahn. "But, this is my country, I should be able to have that and trust that."
---
Joe Hahn discusses more of his experience living in Monmouth, why he only trusts one barbershop for haircuts, and what he describes as "a lack of understanding" from those that identify with the phrase, "All lives matter".
---
Fourteen-year-old Olivia and her 13-year-old brother Adrian are a little too familiar with the racism, microaggressions, and implicit biases that disguise themselves as jokes told by their peers. Having transferred from another school within Polk County, Olivia admits she was hopeful that her current school would be different from her last.

"I had been going to a really small school before and there were only three Black people, two Latino, and the rest were white," said Olivia. "When I got to Talmadge, I was like 'Wow', because I had never seen so many people of color together...I was really excited, I thought I was going to be putting the whole racists in school thing behind me. But, I would say it's way worse." She explained that at her current school, other students make remarks, jokes, and even use the N-word in the hallways.

When the BLM movement started to reach Monmouth, Olivia explained that her peers would mock the movement on social media, and in-person, would jokingly throw up fists in her direction. "It really hurt to see that such an amazing political protest was being turned into a joke," said Olivia. "Basically, they were saying that I was a joke." Adrian described having experienced similar events, noticing that his peers would intentionally say jokes and comments loud enough for him to hear it.

Although both Olivia and Adrian agree that they don't want to stay in Monmouth forever, Olivia is confident that she can make changes while she's here. Having spoken to the school board about her experiences, as well as giving her middle school a reading list of Young Adult authors that write books about racial problems, Olivia thinks the most important thing she can do is educate.

"When I tell people about situations I'm put through, they just say 'oh, I'm so sorry'," said Olivia. "But, I don't want your apology. It's really sweet of you but, apologizing isn't going to change anything." On the other end, Adrian admits that it's possible for small changes to happen in the city but he doesn't expect big changes to occur while living there.
---
Olivia, Adrian, and their mother Vickie discuss more of their experiences within the school system, including the lack of punishment for racist behavior within schools, the staggering difference in treatment between white and Black students, and the educators who seem too afraid to address these issues.
---
While many members of the Black community recognize the efforts of Monmouth For Justice, they are equally aware of the groups and individuals that go out of their way to make their lives difficult. In spite of it all, many of them agree that the best way to create change is through the local government and were comforted knowing that McKiel and Salinas-Oliveros were running for city council with BLM at the forefront of their agendas.

Click here to hear more stories and experiences from Black individuals living in Monmouth.

︎︎︎

When the results for the 2020 elections began to roll in, McKiel and Salinas-Oliveros were maintaining hope that their consistent campaigning efforts would result in a win. In the weeks leading up to Election Day, McKiel and Salinas-Oliveros canvassed the city of Monmouth.

On Oct. 17, the women walked several blocks within the city, knocking on doors and conversing with residents. Both women, prepared with pamphlets and clipboards, took notes on what issues people felt needed more attention from the city's governing body. Residents expressed a wide range of concerns, from providing resources to create a more age-inclusive community, to opening schools back despite concerns of COVID-19. Out of the 10+ residents, both McKiel and Salinas-Oliveros spoke to that day, the subject of race was scarcely discussed.

Salinas-Oliveros attributes this to people's tendency to focus on what was happening in their own lives at that time, stating that people who didn't bring up the race issues within the city were usually white. "I wasn't really surprised," said Salinas-Oliveros. "I think we tend to focus on what is affecting us directly at that time and when you are not a person of color, the Black Lives Matter issue is probably not at the top of your list of things that are affecting you directly."

Although interesting to hear the concerns of community members in Monmouth, it was disappointing to not hear a single concern expressed about the racism within the community. It further validates the willful ignorance residents of Monmouth have, as expressed by many of the Black residents above.

"The only real concern I have right now is school," said a Monmouth resident in conversation with Rebecca Salinas-Oliveros. "If anybody's honest with you throughout this neighborhood and probably throughout Monmouth, they would agree. I have health issues going on, a mother-in-law at the end of her life battling Parkinson's, and hands down, on top of all of that, my kids being in school is my main concern."

"My big issue is the elderly in rural Polk County," said a Monmouth resident in conversation with Carol McKiel. "My ex-mother-in-law is sort of just aging in place so I just wanted to know what kind of plans the city council has to support her and that community."

And while some residents discussed genuine and real concerns for the community, it's the lack of recognition for the additional struggles and concerns of the Black and minority residents in the city that make the aforementioned concerns seem out of touch. However, those that did raise questions and concerns about race were more likely to promise their votes to both McKiel and Salinas-Oliveros, simply because they recognized them from the daily BLM protests.

"I wore my [Oregon State University] mask at the protest and I also wore it while I was campaigning," said McKiel. "People would go, 'I know who you are. You're at the Black Lives Matter aren't you?' and I would say, 'Yes, I'm one of the people who started it'. Then they would say, 'You have my vote, just keep going, keep up the hard work.'"

As the local results for the 2020 election were calculated, both McKiel and Salinas-Oliveros were overwhelmingly voted into two of the three open city council seats in Monmouth. Having begun their journey together with Monmouth For Justice and its daily protests, both women admit that their win came as a shock.

In an interview almost a month after their win, when asked how they felt about winning city council seats, both women paused. "It's kind of a mixed bag for me," said Salinas-Oliveros, discussing further that she wants to make a large influence in the community and truly wants to make changes during her four years in office. And despite being aware of the limitation her role will present, she's hopeful because she wasn't even sure Monmouth would vote a POC into the council. "I was surprised at the finishes Carol and I had, it's really given me a lot of hope in the town and the people."

"I gained a lot of respect for our city and our voters," said McKiel. "I was so excited that the vote came in as high and as clear as it did. It speaks a lot for what our city wants moving forward."


︎︎︎